Album
Pictures of family and friends.
Left: I met the love of my life and my best friend via our shared passion for history and crafts. Center: I dont think you have to do everything together but it helps if there is some level of understanding and respect for what you spend your spare time with. Right: Picture from our medeival wedding.
It is a fun but time consuming hobby. Left: On our way to attend the nordmark principality tourney. Center: handing out scrolls as Prince and Princess of Nordmark. Right The burden of the crown is made so much lighter by the help of good friends.
Bringing kids into your life takes time and focus. But even if we do spend less time in total on our hobby it is fun to share it with them
Left: portable workshop. Center: portable home Right: inside that home
Left: Edvard on the way. Center: Making him a present. Right getting a baby brother.
It is fun to dress up regardless of style or time period. Left: Astrid dragon Center: Edvard dragon Right: Astrid witch
Imagination and glee might be hereditary. Regardless I am glad they have it.
One of the best parts of living up north is that we have proper seasons.
Left: Edvard was early on a keen and dangerous climber. Center: my kids like trolls so we made a snowtroll. Right: There is Always time for dance!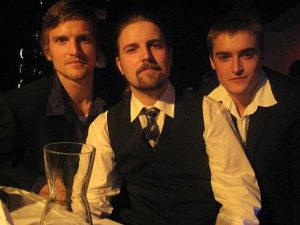 Left: My two brothers Jonas to the left, Mikael to the right and I. The pictue was taken by my aunt 2008 at my examination as a Medical doctor.