Scrolls and awards
These are some of the scrolls, awards and SCA symbols that I have made for friends, hardworking members of the SCA and myself. For those not familiar with SCA tradition we hand out "diplomas" and tokens for several reasons. It is a bit like the awards earned in the Scouts or the Swedish "simborgarmärken". These items are made by craftsmen and handed out by the crowned heads. I was so inspired when I first saw how grown people got moved when they stepped up at cort to recieve recognition for their work that I started to contribute myself by making the things to be given away.  The Picture is taken in Visby by Lia.
CUSTOM BLING
First up are some tokens and awards that I have made few or one off pieces for specific people.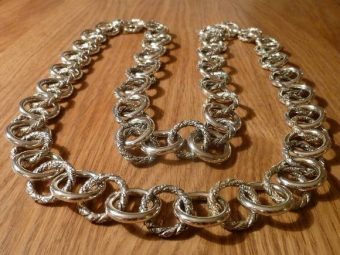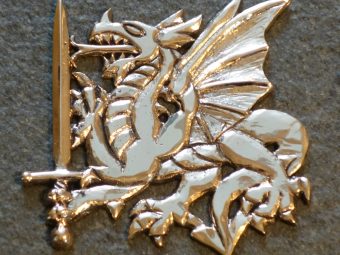 On the left above 1m long knightchain inspired by an original from Spain. Made for GrimR the winner of the epic nordic 1000 torney. Half of the rings are lost wax cast, half soldered from 4mm wire. The silver most generously donated by Duke Sir Matthew Blackleaf. The dragon is an upscale more detailed version of the silver guard made for Egils armour.
Left: Master Haakons breast plate laurel with the text "more enemies more glory", Center: Mistress Katheryns laurel and pelican medalion with a ruby. Right: a large laurel neckless in silver,
A few more laurel medallions and Fenjas breast plate adornments, her coat of arms and the sigillum coronae that William gave her.
Left: My Knight Peregrines period replica cast spurs, Center: a viking malachite. Right: My old apprentice belt. Haakon gave the green belt to me and said; bling this up. It is now taken apart and my apprentices all got part of it for their belts.
Left: a bracelet Center: actually two awards in one, Right: My squire kidneybelt for my cruisader armour with the text "bring the pain".
SCROLLS
"


Above you can see some of the scrolls I have made myself or with the help of my skilled wife who is a better scribe than me. I prefer the illumination.  The third from the left I  have done myself and it is probably the most time and gold leaf I have ever spent on a single scroll but for a gentleman like William it was worth it!
There are many ways to make a scroll, above are a few "portable" runestones made from slate above and below two horns and a shield.
Tokens and awards
Some of the tokens from Nordmark and Drachenwald that I have made to be handed out with scolls.